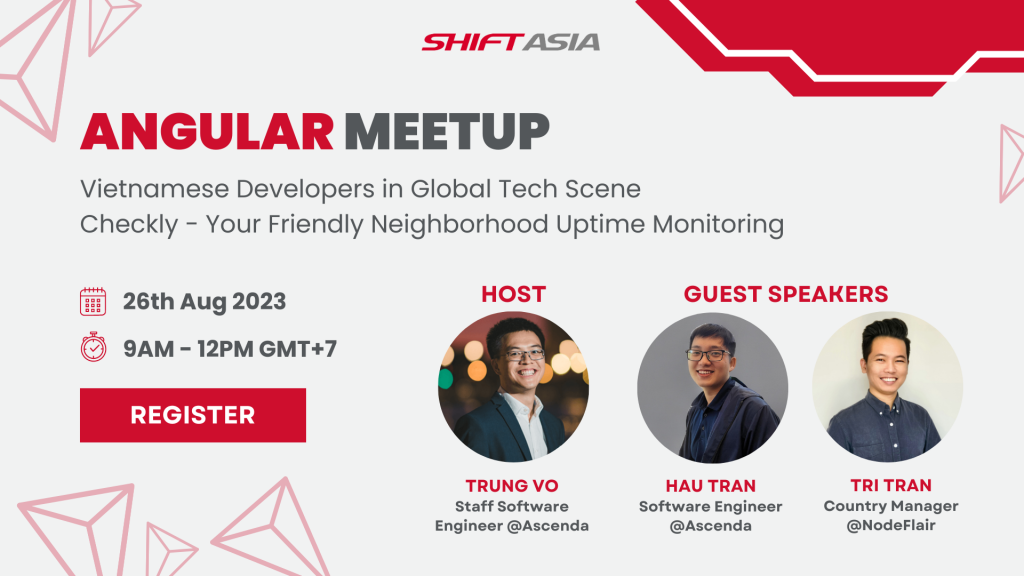 Angular Meetup – Aug 23
Join us for an enriching and insightful event catering to the vibrant Angular Vietnam community. This event aims to provide a platform to share knowledge, discuss best practices, and address common challenges we face as developers.
Date: 26th Aug 2023
Time: 9AM – 12PM GMT+7
Venue: SHIFT ASIA's Office – 130 Suong Nguyet Anh Street, D1, HCMC, Vietnam
Joining us on this webinar, we welcome our honored guest speakers:
Hau Tran
Software Engineer
Ascenda
Tri Tran
Country Manager
NodeFlair
Our host: TRUNG VO – Staff Software Engineer @Ascenda
About the Angular Meetup event
SHIFT ASIA is excited to host this Meetup series to support our Angular Community in Vietnam. We hope to bring the Angular Vietnam community closer and helps everyone strive for greater success!
In this meetup, we will cover 2 hot topics:
1

Checkly – Your Friendly Neighborhood Uptime Monitoring

2

Vietnamese Developers in Global Tech Scene
Contact
Contact
Stay in touch with Us