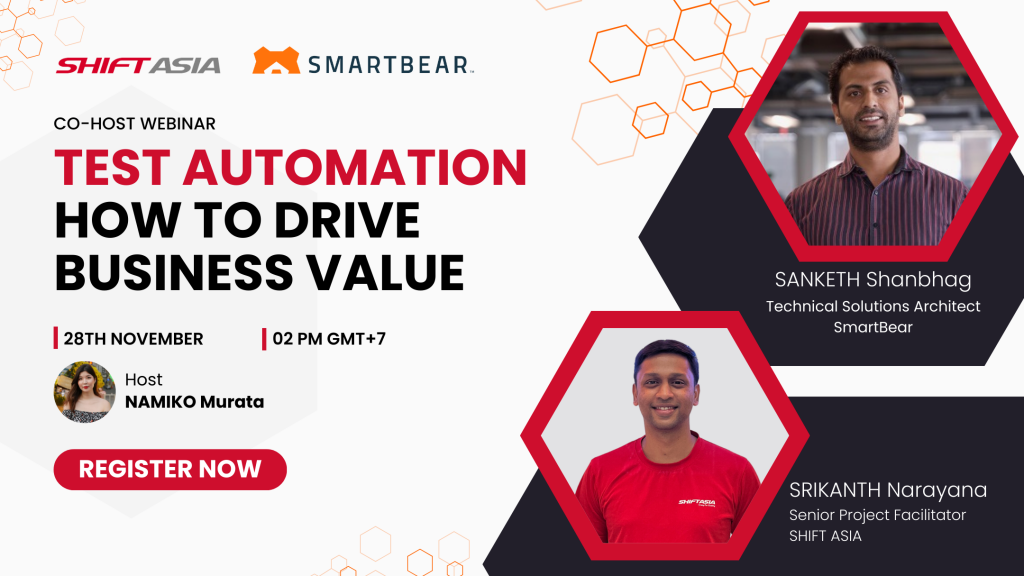 Test Automation: How to Drive Business Value
A co-hosted webinar with SmartBear: learn how to adopt Smart Test Automation using AI and Low-code strategy to your development process and drive business value.
Businesses worldwide are adopting DevOps into their software development process, and automation testing is a key component of software development that aids businesses in increasing effectiveness and efficiency, reducing manual efforts, increasing coverage, and accelerating product release.
However, how do we understand the true ROI of Test Automation? Does traditional test automation bring value in the long term?
We will uncover the technical perspectives and business benefits of Test Automation in this webinar with the presence of industry experts from SHIFT ASIA and SmartBear, our strategic partner.
What is Test Automation? When to automate?
Challenges when adopting various automation methods
How it fits into your CI/CD pipeline
Traditional Automation vs. Smart Automation
Smart Automation strategy to maximize business value
Smart Automation Testing solution demo
In this webinar, we will introduce our Smart Automation Testing solution, a collaboration between SHIFT ASIA and SmartBear. By applying AI, Smart Automation Testing could overcome challenges that traditional automation is facing and bring greater value for businesses in the long run.
This webinar is ideal for anyone wanting to learn more about how the latest automation technology compares to the traditional one and how it can improve their software testing process. Whether you are a QA engineer, DevOps engineer, software development manager, or business decision-maker, this webinar will provide you with the insights and knowledge you need to drive business value from test automation.
Webinar info:
Date: 28th Nov 2023

Time: 2PM – 3PM GMT+7

Location: Zoom

Language: English

Format: Masterclass

Co-organizer: SmartBear
Speakers:
SRIKANTH Narayana

Senior Project Facilitator

Srikanth Narayanamurthy, PMO Lead at SHIFT ASIA, specializes in EC site, CRM, and system integration. He has over a decade of experience in technology, spanning a range of industries from Salesforce and smart grids to renewable energy management and assisted driving technology.

SANKETH Shanbhag

Technical Solutions Architect

Sanketh Shanbhag currently serves as a Solutions Architect at SmartBear, where his primary focus lies in delivering optimal solutions to customers within the realm of Software Testing and Quality Assurance. With a rich background in technology spanning over 17 years, he has held key roles at prominent organizations such as LogMeIn – GoTo, HP-Microfocus, Headstrong-Genpact, and Infosys before joining SmartBear. Sanketh is also actively engaged in sharing his expertise by conducting valuable sessions in various forums, meetups, and tech communities.
Watch the recording
Contact
Contact
Stay in touch with Us