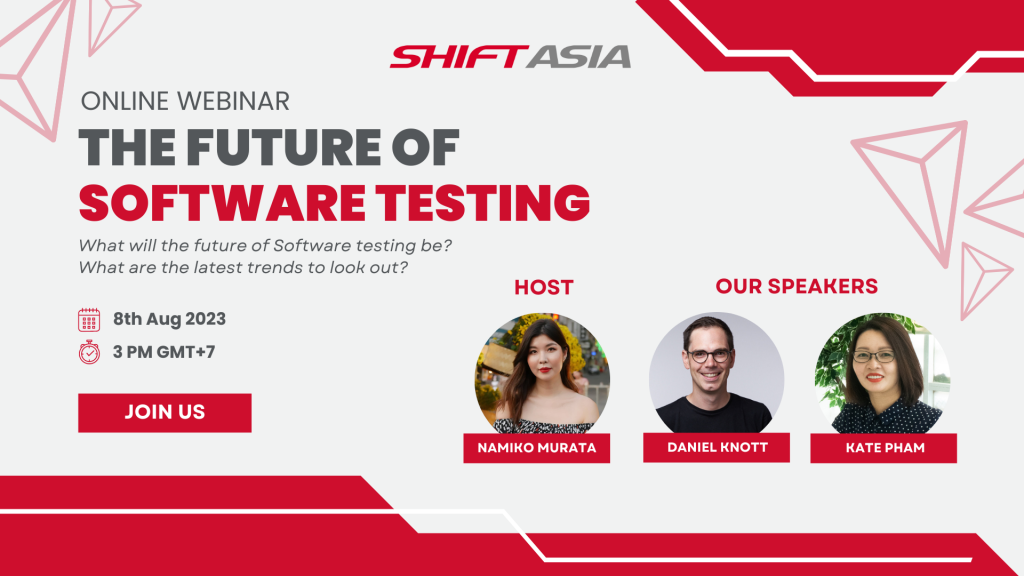 Webinar – The Future of Software Testing
Today technology continues to advance, and the field of software is constantly evolving. Software testing is critical for software development in order to deliver high-quality, reliable software. We have witnessed the shift of Software testing from manual to automation to AI. Testing has become increasingly challenging as software becomes more complex and user expectations rise.
Curious about what lies ahead? Wondering if AI will eventually replace testers? This webinar will explore the trends that are shaping the future of software testing. We will delve into the challenges posed by increasingly complex software and rising user expectations.
Online Webinar: The Future of Software Testing
Date: 8th Aug 2023
Time: 3PM – 4PM GMT+7
Venue: Zoom
Joining us on this webinar, we welcome our honored guest speakers:
Daniel Knott
Head of Product Quality Engineering
MaibornWolff
Kate Pham
Director of Security Services and Skills Development
SHIFT ASIA
In this webinar, we will discuss various trends shaping the future of Software testing and how we should approach software quality assurance in the software industry.
1

Latest trends in Software Testing

2

Software Testing Market Outlook

3

Software testing vs. Quality Assurance

4

The right QA partner
Record of the webinar
Contact
Contact
Stay in touch with Us