SHIFT ASIA is Recognized by GoodFirms as the Best Company to Work With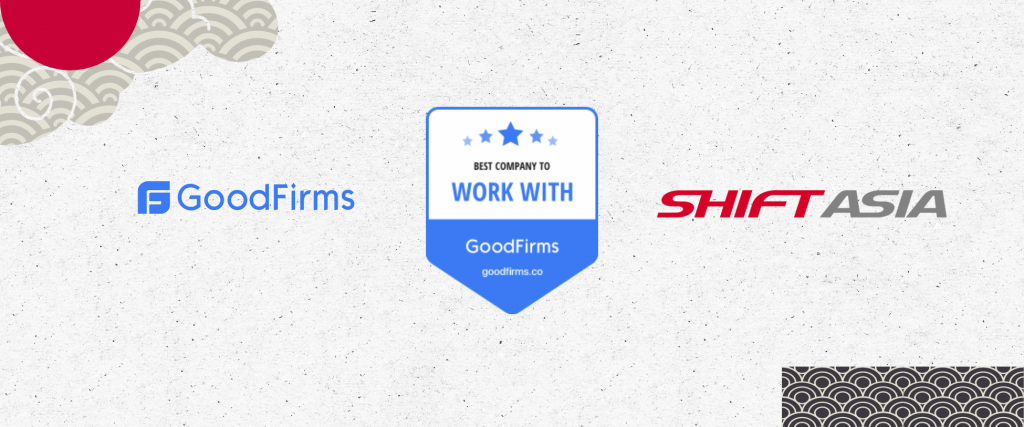 Software development companies build innovative products and solutions to cater to specific project requirements and solve customer problems. These may include developing minimum viable products, mobile applications, web applications, etc. But they must carry high-quality assurance checks before releasing these products into the market to nullify all possible risks and failures. Software quality assurance testing is carried out extensively in two different ways; automated testing and manual testing. Automated testing involves GUI and regression testing, whereas manual testing includes functional and non-functional testing, exploratory testing, cross-device testing, and more.
GoodFirms, one of the most reliable B2B listing platforms and top IT research and review agency, has recently recognized SHIFT ASIA for its incredible services in software development and software quality assurance testing services and tagged it as the "Best Company to Work With". Founded in 2016, SHIFT ASIA operates mainly from Vietnam and Japan with adequate software development and software quality assurance testing expertise, in addition to high-quality IT consultation and software development using the latest tools and technologies.
For 2023, GoodFirms names SHIFT ASIA as the Best Company to Work With
Looking for the best software testing company can become tricky and challenging for most business enterprises as they have many options. Most users select companies that offer the broadest range of services under their budget estimate. SHIFT ASIA has been at the top of their list for both reasons, providing an extensive array of services at competitive prices. It also conducts industry-specific testing depending on the purpose of the product. The company puts quality as its top priority in any service they provide. For all these reasons, GoodFirms has rightly labeled SHIFT ASIA as the "Best Company to Work With."
SHIFT ASIA - Strengths & Vision
As a top-rated software development company and highly reliable testing agency, SHIFT ASIA helps to resolve complex issues using next-generation technologies that contribute to its success. The company holds expertise in conducting manual and automated testing, aiming to provide the best and most accurate results. Also, SHIFT ASIA is regarded as one of the trusted third-party verification companies in Japan with the ISO/IEC 27001:2013 certification, which proves their dedication and thoroughness in providing the best software quality assurance services to partners.
Hiring high-quality offshore services versus hiring traditional offshore vendors has pros and cons. Hence, choosing between offshore companies and traditional vendors largely depends on specific project and company requirements.
SHIFT ASIA has successfully catered to various software quality assurance testing and software development projects. One such project involved improving the QA process and conducting testing of a cryptocurrency wallet application for a well-known Fintech company in the US. Similarly, it developed a minimal viable product (MVP) for a real estate service company with native Android and iOS application support and improved UI/UX.
Check out to see what our clients talk about us.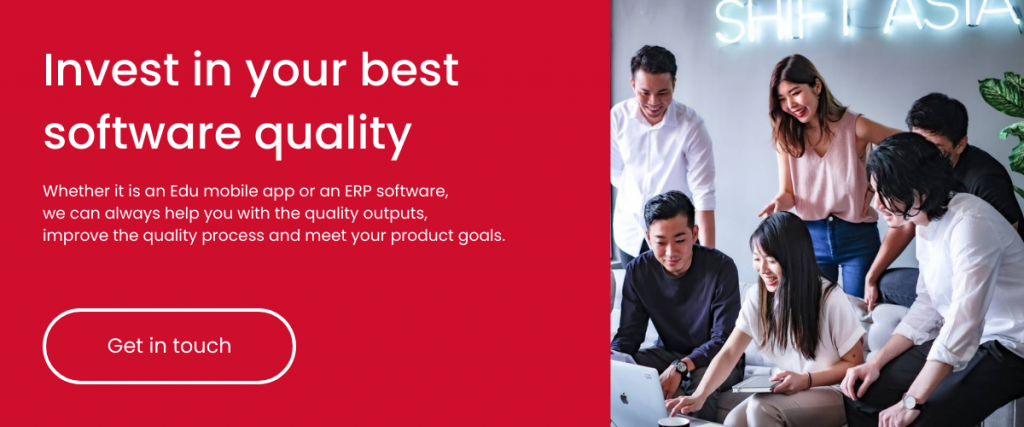 Why is SHIFT ASIA the Best Company to Work With?
Any company willing to succeed in the long term in this highly competitive scenario must adopt a flexible and agile approach focusing on upgrading its tools and practices. The software development and software quality assurance testing industry is transforming rapidly, with new frameworks and technologies being introduced frequently. The QA engineers and specialists from SHIFT ASIA are ISTQB certified and highly trained to understand the latest defect models and take action appropriately. Being an ISTQB Platinum Partner requires SHIFT ASIA QA/Testers to continuously advocate industry best practices with exceptional efforts and expertise in software testing, keeping SHIFT ASIA striving to further raise their existing high-quality standards to the next level.
GoodFirms believes that SHIFT ASIA has already established its dominance as the top-rated software quality assurance testing agency in Vietnam, leading the way front in software development with expertise in building MVP products, websites, web, mobile, and enterprise applications.
About the "Best Company to Work With" Badge
"Best Company To Work With" is an exclusive program run by GoodFirms. All the companies recognized as the top performers via its Leaders Matrix program get a chance to claim their Badge, along with an exclusive article about the Company and a supporting PR. Such recognition stands as a support to developing trust and authenticity within the B2B community. It also allows the participating companies to improve their ranking – ranks higher in the Leaders Matrix categories and receive inbound backlinks from the GoodFirms LeadersRoundtable podcast campaign, with a certified Badge saying, "Best Company to work with."
About GoodFirms
GoodFirms is a B2B research, review, and listing platform helping businesses accelerate their digital journey and maximize modern technology's value. The company connects service providers with service seekers through a comprehensive and thoroughly researched fact-based list of the best services and solutions. Recognized as the most reliable source for the B2B market, GoodFirms has world-class experience with partners across the globe.
Contact
Contact
Stay in touch with Us