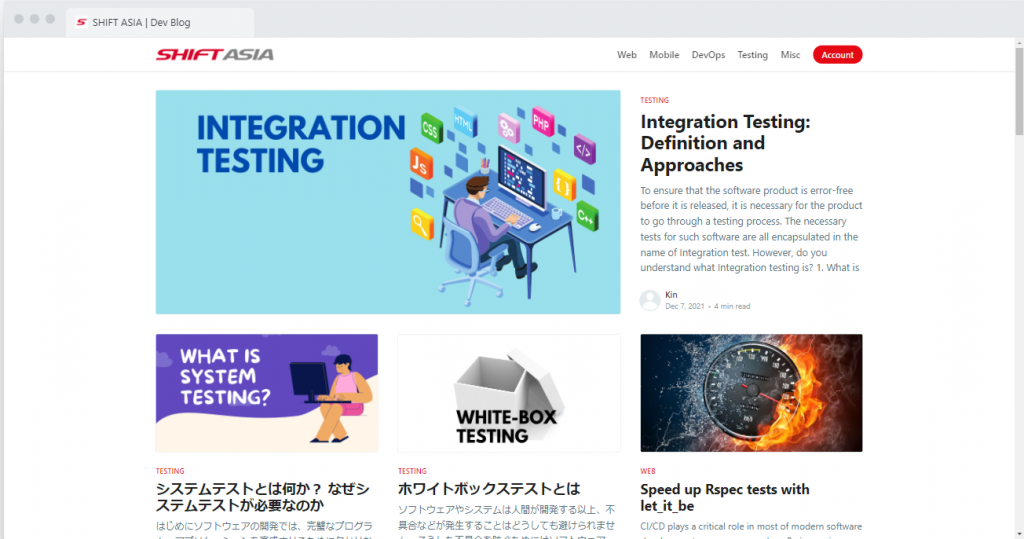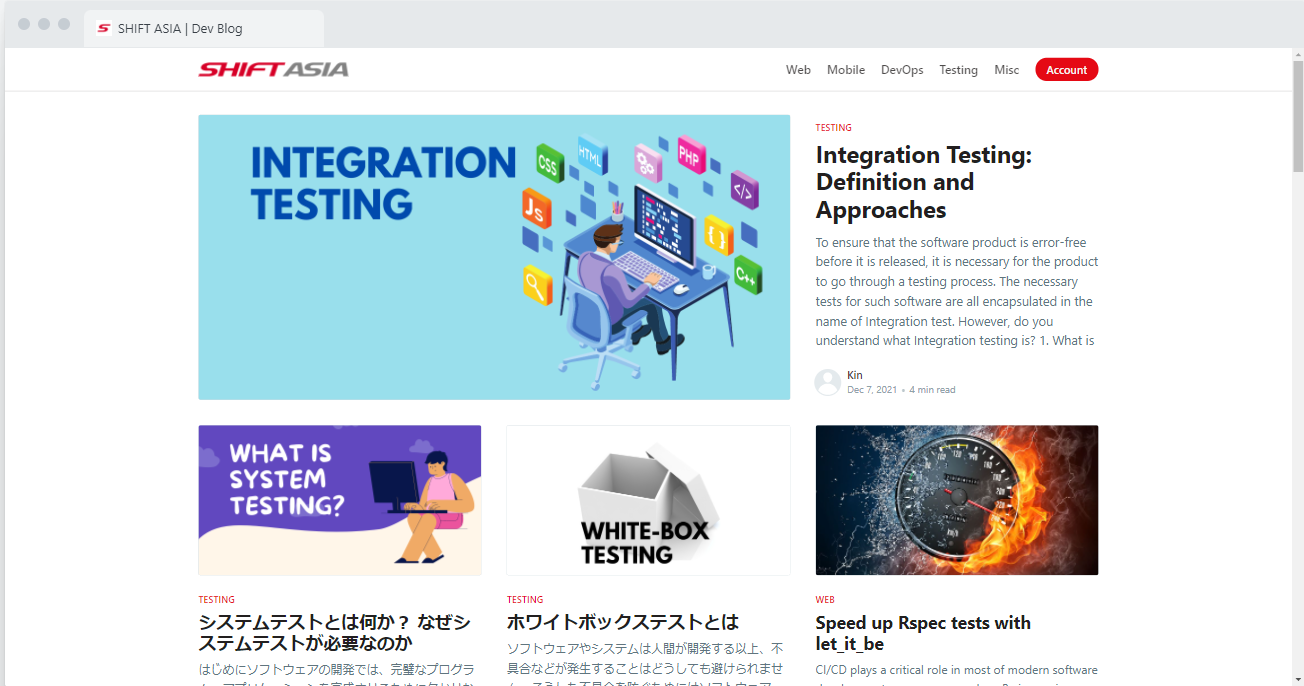 Others
Dec 08, 2021 Tai
SHIFT ASIA start a Tech Blog "SHIFT ASIA Dev Blog"
From December 2021, SHIFT ASIA has started a tech blog called SHIFT ASIA Dev Blog so that we can share various technology topics with our audiences directly from our developers and test engineers.
Here it is!
What does it mean for a developer to write a tech blog?
As you know, there are many developers working in the software industry who proactively post technical information through writing tech blogs on the topics they are interested in.
Especially for those developers who follow the latest industry trends and popular technologies, writing a tech blog has become a kind of fashion.
Writing a technical blog is generally said to have the following benefits.
1. Demonstrate your technical skills
First of all, by explaining specific technologies or introducing codes that you have actually written, technical blogs can help you widely demonstrate your technical skills as a developer externally.
Not only when you run a blog as an individual, but also when you contribute to a corporate tech blog owned by a company like ours, the company can deliver a strong message to their audience that we have many skilled engineers. This can be even more persuasive than verbal communication in explaining the capabilities of the company's engineers in everyday sales and proposals.
There is also the advantage that by writing a blog under the name of the individual developer and test engineer (in our case, we use nicknames which are common among SHIFT ASIA, we can highlight each member's strengths and interests.
2. Improving your knowledge and technical skills
Next, there are also various advantages for the engineers themselves to write a blog. Of course, it's not easy to keep writing blogs on specific topics while doing your normal work as an engineer. However, through the process of putting the knowledge and skills acquired through work and other activities into written output, developers can gain a more objective and in-depth understanding of the topic in question.
In addition, unlike casual messages to project members or internal emails, tech blogs are posted on the public space on the Internet where anyone can read them. Therefore, the content must be more accurate and objective, and should be based on a logical sentence structure. This also help you enhance your writing skills.
3. contribute to the Developer Communities
Furthermore, tech blogs cover the topics such as personal experiences of each developers and software quality tester, as well as the knowledge and useful insights gained from those experiences. This may include not only success stories and know-how that are useful to readers, but also failures that were painful experiences in the past.
One of the benefits of a tech blog is that it allows you to connect with Developer Communities around the world by publishing such real information.
In addition, in the sense that developers who are interested in the same technological topics can connect with each other, it can be said that tech blogs often have a positive effect on a company's recruiting activities. In particular, when hiring developers, in addition to conditions such as salary, position, and benefits, it is also important to provide a workplace where there are skilled peers who are familiar with the technology the candidates are interested in.
In other words, as technologies in software development are constantly evolving, every developers are required to continue to learn new technologies. That's why they prefer to an environment where they can work with their peers who are knowledgeable too. That's why it is more crucial for the recruiting activity to demonstrate your developer's skills and capabilities through the blog.
What SHIFT ASIA aims to achieve through the blog
On the SHIFT ASIA Dev Blog, our engineers from our development and testing departments will write blog posts on various topics such as coding techniques, tools, methodologies that they are interested in, to communicate the technical challenges and initiatives that they are working on.
At SHIFT ASIA, based in Ho Chi Minh City, Vietnam, the majority of our developers and test engineers are Vietnamese. There are many young, talented, and ambitious. But, it is true that we have not been able to communicate their technical capabilities and skills due to the country and language barriers.
SHIFT ASIA Dev Blog is written in English or Japanese so that their daily technical challenges can be read by our broader audience including our customers, developer peers outside Vietnam. Many of our Vietnamese members write articles while struggling with English and Japanese, which are not their mother tongues, so there may be some parts that are difficult to read or understand, but we would appreciate it if you would warmly follow us.
SHIFT ASIA start a Tech Blog "SHIFT ASIA Dev Blog"
Contact
Contact
Stay in touch with Us