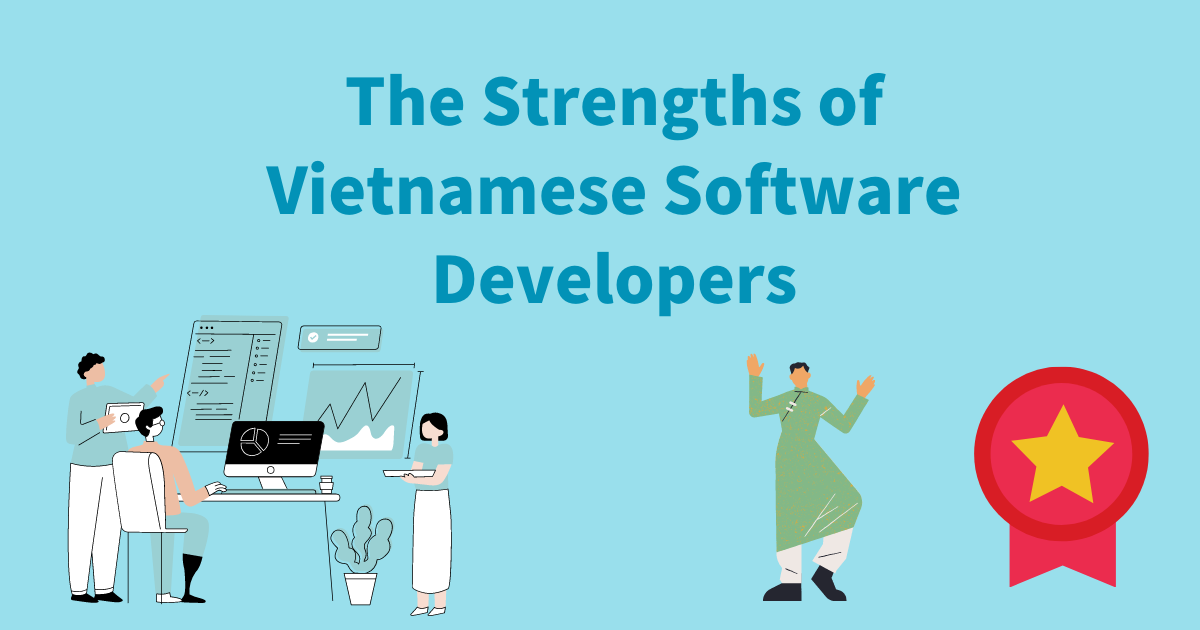 Offshore Development
Oct 26, 2021 Tai
Strengths of Vietnamese Software Devs in software quality?
With the spread of smartphones and social networking services, more and more consumers are getting used to digital services as a matter of course, and the need for the development of systems and applications to support these services will continue to increase. The collaboration with foreign software developers and engineers is one of the most promising options to respond to these increasing demands, especially if you are struggling to get engineering resources that your business needs.
As a offshore development and software testing company based in Vietnam, we will introduce the characteristics and realities of Vietnamese engineers in this article.
6 characteristic points of Vietnamese people
First of all, let me introduce some typical characteristics of Vietnamese people. One thing that is often said about the Vietnamese people is that they are diligent and work hard. I would say there is a similarity with Japanese in that point, and it is also essential for software quality assurance (QA) business, which is one of the core businesses of SHIFT ASIA.
To understand some characteristic of Vietnamese people, I will introduce 6 characteristic points as below.
1. Dexterity
According to a report by EY Japan, lower production costs than in China and similarity in trade structure are reasons many people choose Vietnam. In addition, the dexterity of the Vietnamese people is also highly evaluated by various industries, not only the textile industry in the past but also high-tech industry in recent years. For example, Samsung Electronics has made huge investment in northern Vietnam to manufacture high-value-added products such as smartphones.
2. Highly motivated to learn
In Vietnam, changing jobs is more common compared to Japan, so many people are willing to invest in their education to improve their skills even after working hours. For example, many engineers learn IT related-knowledge and qualifications that will be useful when changing jobs, such as agile development and AWS technology, or attend foreign language schools such as English and Japanese after work.
For them, working for foreign companies in Vietnam can be a chance so they can earn higher income than local Vietnamese companies. In Vietnam, where the economy has been growing steadily since around the 2010s, many young people have a motivated mindset like this: "If you work hard and improve your skills, you can achieve higher income.
3. Tough negotiator
Historically, Vietnam has always been under threat from China and other major powers. In the modern era, Vietnam was colonized by France and fought with France and the United States for its independence. In terms of diplomacy, a sense of balance is one of the prioritized diplomatic policies for Vietnam government.
In addition to that, they are good at negotiating in shopping like in a local fresh market, and even if you rent a house, it is common for you to discount the rent directly with your landlord. So, it is also quite normal for Vietnamese to negotiate their salary in their current role every year.
4. Women's high participation in the labor force
Vietnam is a socialist country like China, and Vietnamese women have a high participation rate in the labor force. Actually most married couple usually work together even they have kids. In general, it's even said that women tend to be more diligent than men in Vietnam, and it is not surprising that the wife is paid more than the husband.
As a result, there are many families in which the hard-working women support the family finances, and it can be said that Vietnam is a country that women support the family. So, Vietnamese society respect women, and for example, besides International Women's Day on March 8, Vietnam has its own "Vietnam Women's Day" on October 20, which is a day to recognize women's achievements in society and to express gratitude to their families and colleagues.
In fact, according to the 2021 edition of the Global Gender Gap Index (GGGI) released by the World Economic Forum (WEF) on the theme of gender equality, Vietnam ranks 87th out of 156 countries, far higher than Japan, which ranks 120th.
At SHIFT ASIA, many female employees are working in an active way, mainly in the QA department, and the ratio of female employees to the total number of employees has reached approximately 40% in our company.
5. Short-sightedness
Compared to developed countries, Vietnam's infrastructure, public transportation, and social security systems are still not fully developed. In addition, the long period of warfare that followed World War II has delayed public investment from a long-term perspective in some respects. On the other hand, the Mekong Delta in the southern part of the country which is known as one of the most fertile regions in the world, is a notable example. in Mekong Delta, no one is worried about their foodstuffs such as rice, fruits, fish, etc. due to the rich granary, and it is said that Vietnamese people have a short-sighted tendency to "enjoy the day-to-day life".
6. Nepotism
In Vietnam, the family relationship is one of the most important thing. The percentage of farmers and self-employed people in Vietnam is also higher than in many developed countries, so the sense of dependence on companies and organizations is relatively low. As a result, Vietnamese people tend to value their family and blood relatives, whom they can rely on in case of emergency, and this is partly due to the historical background of the country, where the development of the credit economy was hindered by the long period of warfare. In fact, this kind of nepotism is a widespread phenomenon in politics and corporate human resources.
What are the characteristics of Vietnamese engineers?
Based on the basic characteristics of Vietnamese shown above, let's take a look at the strengths of Vietnamese engineers.
Increasing IT skilled workers as a national policy
Vietnam government set to increase the number of IT skilled workers, including IT engineers, to 1.5 million by 2030. For this reason, the Vietnam government is focusing on STEM (Science, Technology, Engineering, and Mathematics) education, and coding and IT related-subjects have been introduced from middle school in Vietnam. In addition, in the PISA survey conducted by the OECD in 2015 on scientific literacy in each country and region, Vietnam has been ranked in the top 8 out of 79 countries and regions.
In fact, it is said that the number of students who major in IT and technology-related studies at universities and enter the workforce as engineers is increasing at the level of about 50,000 every year, and the engineering population is steadily expanding at present.
According to the VIETNAM IT MARKET REPORT 2020, which summarizes trends in the Vietnamese IT market, Javascript, Java, PHP, and Python are the popular programming languages used by engineers. In fact, with a population of about 100 million and an average age of 31, Vietnamese engineers are relatively quick to catch up with new technologies that are constantly evolving.
Reference: IT Human Resource: The most popular tech stack, VIETNAM IT MARKET REPORT 2020
Delivering quality from Vietnam
SHIFT ASIA provides high quality quality assurance (QA) and software testing services to our clients by combining the highly skilled Vietnamese engineers with the knowledge and methodologies on quality assurance cultivated by SHIFT, Japan's most renowned QA provider.
In fact, when comparing Vietnamese engineers and Japanese engineers within the SHIFT Group, the average Vietnamese engineers' abilities in test design, execution, development, etc. is never inferior to that of Japanese ones, and we are aimed to provide various services to customers with higher quality than those in Japan from Vietnam.
Strengths of Vietnamese Software Devs in software quality?
Contact
Contact
Stay in touch with Us